Another story from my Navy days that is still mostly true.
Every so often the military personnel system puts a round peg in a round hole almost by accident. The Navy urgently needed a speechwriter at the Great Lakes Naval Station in Illinois. I had a journalism degree and was awaiting reassignment from a minesweeper in Japan. And the Navy would have to move me back to Chicago anyway when my hitch was over.
Great Lakes is the largest training installation in the Navy, located on Lake Michigan halfway between Chicago and Milwaukee. When I arrived in March of 1967, the Vietnam War military was pumping thousands of sailors through boot camp and specialty training.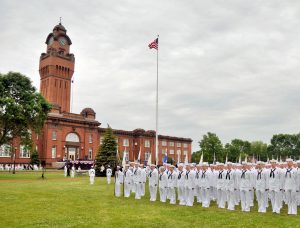 I worked in a post-Victorian headquarters building with a tall tower.  The place exuded military formality: high ceilings, grand staircases and broad hallways lined with portraits of dead admirals. A formal rotunda was decorated in nautical rococo of polished brass and intricate ropework. An antique, highly-polished brass cannon guarded the entrance to the admiral's office.
My boss, a public affairs captain with a flair for wisecracks, retired from the Navy in a formal ceremony in the rotunda. He was ceremonially "piped ashore" and walked down the aisle of brass shell casings. Then he turned and proclaimed: "Damn the torpedoes. Keep up the brightwork!"
My office actually was in the tower: a sort of penthouse at the base of the tower that housed my small group of enlisted journalists and photographers. We thought it an ideal location because the long flight of stairs to our office ensured that senior officers rarely dropped by.
In those days Great Lakes was long on military pomp and ceremony. Morning colors at the flagpole in front of the headquarters building was expanded several times a week from a color guard and bugler to a platoon of marines and a band. In mild weather the weekly recruit graduation took place on the parade ground.
The recruit training center was impressive in its sheer scale. Visitors were most impressed with a mess hall that served more than 10,000 meals a day – and watching a tattooed, tough-looking sailor expertly turning out delicate cake decorations. Elsewhere on the base, technical training took place in specialized facilities such as operating models of ships' power plants, guns and missiles.
A large naval hospital trained the Navy's hospital corpsmen, and was treating hundreds of marines who often arrived at Great Lakes within days after being wounded in Vietnam. When my son was born there a few months after we arrived, the young sailors who staffed the nursery got a kick out of caring for the babies. They probably became wonderful fathers because they could change a diaper in seconds.
Great Lakes was clean and well-maintained because sailors who were between schools or waiting for orders provided a steady supply of free labor. One building had two full-time crews – one mopping and scrubbing and another waxing and buffing – that followed each other up and down the corridors.
My chief petty officer was an expert at working the system. He arranged for a crew of prisoners from the brig to paint our office, and somehow got two enlisted people from a different command permanently assigned to our group.
The chief also operated a rescue mission for enlisted journalists. Every so often the journalist petty officer at the recruit center would alert him that a recruit with a journalism degree was getting orders to the deck force of a destroyer. The chief would get on the phone and work the chief journalists' network to get the recruit assigned to a public affairs billet.
Great Lakes remained my home base during most of my career in the reserves. Over the years the headquarters building added more portraits of admirals and my old tower office was converted to a storage room. But they still kept up the brightwork.