Note to readers: This exploration of my family history is primarily for my kids and kinfolk. I'm posting it in my blog because I'm too cheap to set up a separate website. If you are not among my relatives you probably won't be interested in this stuff, and that's fine with me.
The house is still there, at 1421 Bunch Street in Corinth, Mississippi. (I found it on Google Street View.) One story, painted white, modest yet gracious with a wide front porch, set back from the street on a slight rise with a concrete-block retaining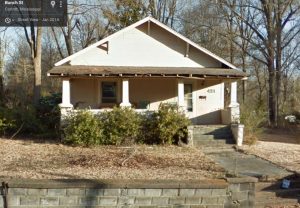 wall along the sidewalk. The big oak trees my grandfather planted are gone and the house shows its century of age, but it's pretty much as I remember it.
I'm not sure if my grandfather actually built the house, but I was told he finished the interior walls with beaverboard. It was a step up from the farmhouse in Kentucky he left when he was in his teens.
Virgil Allan McClure spent a long career as a telegraph operator for the Illinois Central Railroad. He married my grandmother, Ethel Holderman, in 1910 in Covington, Tennessee, and my father, Marvin Allan, was born there in 1911. The family moved to Corinth by 1913.
Corinth, in the northeast corner of Mississippi, is a railroad crossroads that attracted a Civil War battle in 1862 and my grandfather half a century later. My father dug minie balls out of the old fortifications as a kid, and was one of the Boy Scouts who helped elderly Confederate veterans during the annual parade. Outside the county courthouse, generations of old men sat on a park bench next to the Confederate monument and whittled pieces of wood (not to make anything, just whittle to pass the time). The town's population was more than 5,000 when my grandparents moved there and is around 15,000 today.
Tornadoes used to be a problem there. Some of the neighbors had dug storm shelters in their yards. My father claimed a tornado once tore off roofs in the neighborhood and turned a nearby house sideways on its foundation.
According to my father, every so often a visitor to Corinth would stop by the post office and ask if they'd received any letters from Paul lately. People got the joke because practically everyone attended church. My grandparents attended the Baptist church, largest church in town. My grandfather was a big shot in the Masons and my grandmother was a leader in the Masonic Eastern Star.
My father went by Allan and never used his first name. The family had a Negro housekeeper (as most middle-class families probably did) and as a toddler my father thought the dark-skinned woman was his mother. He was a big kid, recruited for the high school football team when he was in eighth grade. He had a younger brother, Jimmy (after whom I am named), who died of appendicitis in his teens.
My father graduated from Corinth High School in 1930, where he was senior class president and participated in the typewriting club, theater and the Masonic DeMolay organization. After high school he knocked around, because his graduation would have coincided with the beginning of the Depression. He told stories about running moonshine in a Model T Ford to a friend who was attending the University of Mississippi in Oxford. And an improbable story about meeting a young William Faulkner in an Oxford drugstore, getting drunk on moonshine and shooting rifles in the backyard.
He got involved in labor organizing, probably through working in the textile plants that were industrializing the South. He told of attending a camp for union organizers that he later realized was run by Communists. My father probably was involved in a series of textile workers' strikes in Alabama in 1934 and said he landed in jail briefly for union agitation.
At some point he got interested in music and singing. And in the late 1930s my father went to Chicago on a scholarship to study opera.